Top 11 dedicated esports arenas
TABLE OF CONTENTS
Dedicated esports arenas are stand-alone facilities designed specifically for competitive gaming purposes. They could be used to host tournaments and stream online battles, can become training grounds for aspiring esports athletes, while also providing a place where gaming enthusiasts can find the best gear to play their favorite games.
The ecosystem of cybersport grows exponentially each year, it's not enough to rent a football stadium for an esports event anymore. You would think that in this case size matters, but it's all about an immersive experience that venues can provide to everybody who's into competitive gaming. When we talk about tournaments, not all stadiums, even the biggest ones, can satisfy the needs of a high-quality esports event production. There's a lot of tech involved in a creative process of engaging gaming scenery, hence huge amounts of wiring and a demand for an effective cooling system inside the facilities. LED screens and comfortable seating should be considered for fans, as they get an opportunity to get closer to the action. They want to see emotions on players' faces, they want to hear teams discussing strategies, they want to be IN the game – and that's the foremost task dedicated esports arenas should solve.
For the lack of universal standards for such venues, there's much freedom in architectural structure and available amenities for fans, players, and organizing staff. Some esports venues are retrofitted conference halls or production studios, some are ground-up constructions, and some are a part of an entire gaming village. To address this matter, last year the International Esports Federation announced a partnership with DLA+ Architecture & Interior Design to create standardisation guidelines for esports stadiums promoting safe and effective environments for competitive gaming. This is yet another step towards a global recognition of esports, so it can be considered in line with basketball, fencing, and other traditional sports.
There's still a debate if esports can be called "a real sport". There's not much physical action, such as running and jumping, but there are significant aspects of esports that should be taken into account. First, several countries have already recognised esports as a competitive sport. Second, not all traditional sports involve physical activity. Chess is acknowledged by the International Olympic Committee as a sport, even though it never appeared in the Olympic program. Third, just like chess, esports are planned to be included into Asian Games 2022 official medal program, and with such staggering growth it's only a matter of time when we'll see competitive gaming in the Olympics.
Every sport has its own temple. It means that there's always a place where athletes get most knowledge and training in their discipline. It's where they can connect with people sharing the same passion and elevate their skills to compete with the best in their field. It's stadiums for football, skating rinks for hockey – now there are arenas for esports. Let's dive into top-notch venues around the world designed to blow your mind with high-end technology and engaging fan experience.
Blizzard Arena Los Angeles
Location: Burbank, CA
Area: 6,875 sq. m.
Capacity: 450
Opened in 2017, Blizzard Arena conveniently occupied Burbank Studios, once a home to NBC's famous "The Tonight Show", and became one of two global esports gaming arenas owned by Blizzard – one in Burbank, another one in Taipei. Advantageous location of Blizzard Arena Los Angeles is associated with the fact that Burbank Studios were originally designed for live radio and TV broadcasting, allowing less effort to repurpose the venue for live esports events.
Welcoming fans with Blizzard Gear store containing merchandise of the playing teams, the 1000 sq m center stage is equipped to host 450 people in the audience and is customizable for competitions in various titles from Blizzard – Overwatch, Hearthstone, Starcraft II, and others. In the center of the stage there's a 13,000 pixel wide LED screen showcasing the in-game action, while a huge LED halo rises above the stage to reflect the payload progression during each round of Overwatch. Fans are seated just a few meters away from players' desks, and right behind them they can hear analysts commenting on a show from their spot. Hosts, guests, press – all get a skybox viewing opportunity to engage with the gaming process.
In comparison to traditional sports, everything's happening very fast in gaming, so it is essential to keep up with every aspect of the gameplay – in-game action, players' collaboration, analysts and showcasters commentary – simultaneously. That is why the support area of Blizzard Arena, where all the preliminary work for production is done, takes up the bigger part of the arena. Control rooms, audio rooms, observation rooms together combine substantial effort to provide the best experience for live audiences and those who watch shows online. It's also fun to see modern tech next to legacy equipment of Burbank Studios from the 1950s carefully preserved by the Blizzard team for a display. Right next to mobile workstations for instant replay of game streams you can find analogue meters for Stage 1 that were used by "The Tonight Show" crew.
In 2019, right before the pandemic, Blizzard have announced a new home-and-away schedule of matches for Overwatch League. Starting in 2020, Overwatch clubs were supposed to arrange their home base arenas to host matches, while Burbank Studios together with Blizzard Arena were being acquired by Warner Bros. for expanded office space. And although fans are nostalgic about the arena and a great feel of proximity to favorite teams it provided, they are hopeful that Homestands will contribute to esports development locally with the same hype Blizzard Arena was famous for.
LoL Park Esports Stadium
Location: Seoul, South Korea
Area: 5,000 sq. m.
Capacity: 450 seats (arena), 100 seats (PC bang)
LoL Park was built as an official esports gaming arena for League of Legends Champions Korea, the main competition that qualifies its winning team to participate in the League of Legends World Championship. LCK league has proven to be very efficient, as its champions became LoL world champions for 5 consecutive years from 2013-2017, getting their title back in 2020.
As a tribute to the game and to its grand Korean community, LoL Park really builds up to provide an all-encompassing fan experience. Moving inward from the entrance, you can notice fan-art images of favorite League of Legends characters and scenery, their pictures follow you along the walls and even elevators. One of the best live drawing artists in the world, Kim Jung Gi, was commissioned to create a 9 meter long mural featuring LoL champions, heroes, content creators, and fans. The artist spent 2 weeks on this artwork, inking directly on LoL Park walls without preliminary sketching. The commemorative hall also contains collectable figurines of LCK champions and a display of their jerseys. If you want to buy some, there's a Riot Store right at the venue, selling merch and various memorabilia.
The heart of the venue is the center stage, that's where you can meet Faker face-to-face. He is claimed to be the best LoL player in the world with the highest annual income as of 2019. The stage of LoL Park is designed to minimize the distance between pro-players in the action and their audience, so if you are lucky, you could watch Faker's screen from behind his shoulders during the game. Those who are seated in the back can observe the action on big screens hovering above the players' pod.
Apart from professional competitions, LoL Park offers recreational gaming in their PC bang. Although the venue is dedicated to League of Legends, there's a variety of games that visitors can play on these computers. Bilgewater Cafe is also open to the public, it doesn't sell rum, but supplies with food and beverages while guests play or simply wander around.
Full Sail Fortress Esports Arena
Location: Winter Park, FL
Area: 1,040 sq. m.
Capacity: 500
Full Sail University in Florida has the biggest dedicated venue for collegiate esports in the US. The school itself specializes in media, arts, entertainment majors, also offering degrees in game design and development. It is only logical for Full Sail University to have its own esports team, but it was a bold and admirable move for them to set up the largest esports arena on any university campus in the country.
The Fortress is designed to support Full Sail Armada, the collegiate esports team that plays in 11 different titles and amounts up to 80 athletes. The venue is designed to host any kind of event in competitive gaming, from friendly campus matches to full-scale league competitions, accommodating 500 spectators in the audience. 354 LED panels, shy of 10 mln pixels, are mounted in the Fortress for better viewing experience: side panels help to showcase players' emotions via individual cameras, while center panel broadcasts the in-game action in real time.
Being a premiere destination for esports events, the Fortress is open to all gaming enthusiasts. Its track record includes charity streams, esports panels, championship finals, campus tournaments, where best video game players made appearances sharing the stage with students, aspiring gamers.
Try SENET for your gaming center
No-commitment free trial for 7 days. No credit card needed.
HyperX Esports Arena Las Vegas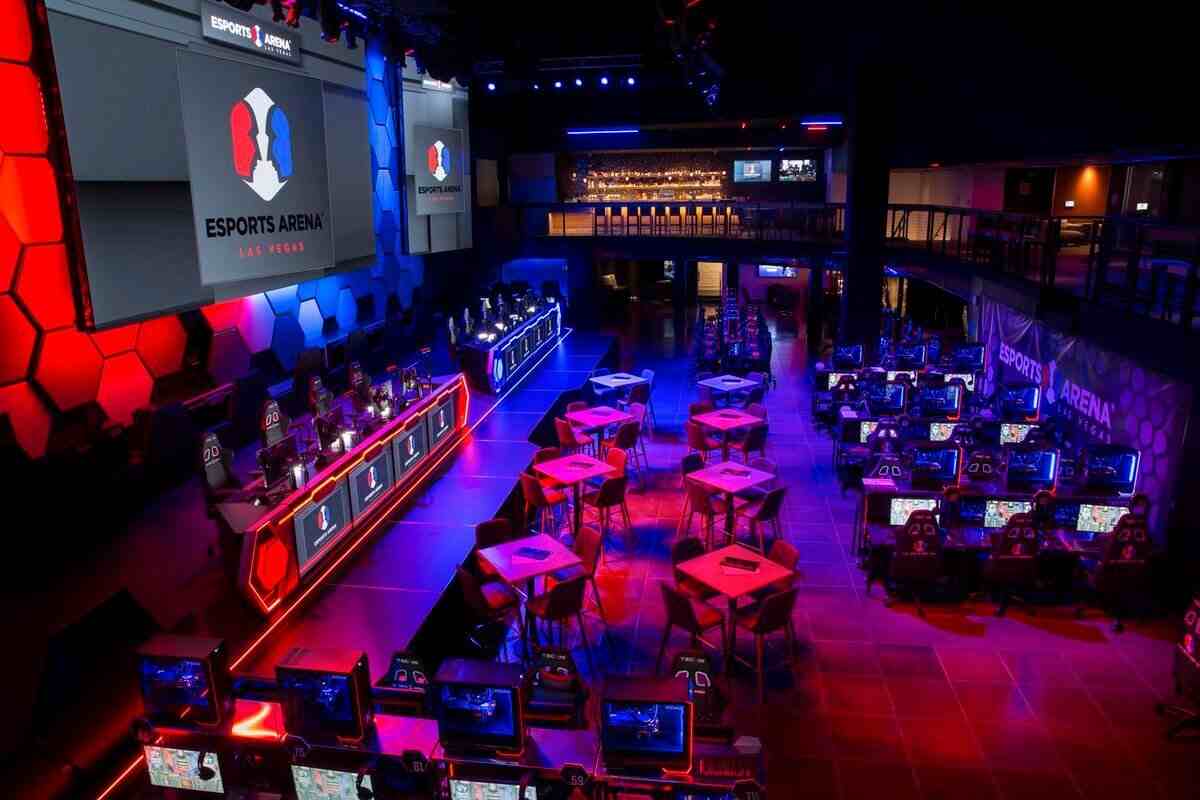 Location: Las Vegas, NV
Area: 2,800 sq. m.
Capacity: 1000
If you are planning to stay at Luxor Hotel & Casino in Las Vegas, you should know that you can't play video games in your room. Could have been a bummer, but the hotel provides a whole other level of gaming experience – HyperX Esports Arena. It's a multi-level multi-use venue dedicated to educate and introduce people to the esports industry through world-class event planning and high-end technology for pay-to-play gaming services.
Luxor esports arena takes pride in every single corner of its facilities: the lobby with PCs and consoles for casual gameplay, 130 sq m central stage with a 15 m wide LED wall for professional competition, streaming booths that visitors can rent for their own production services, and vintage video game hall that you can enter and play for free.
For this project, a chain of dedicated esports venues, Esports Arena, collaborated with Allied Esports and Luxor to add on to their network of dedicated facilities for competitive gaming. It is important that a big chunk of the Las Vegas arena is allocated for production purposes, as live streaming and video production have become hot topics during the pandemic. Even in times of social distancing, such venues are able to bring profit from isolated streaming booths that can be rented by individuals, be easily disinfected, and provide value to both gamers and arena owners alike.
Fortress Melbourne Esports Venue
Location: Melbourne, Australia
Area: 2,700 sq. m.
Capacity: 1,000
Granted, there are not that many countries below the equator, but we won't take away the title of the biggest dedicated esports structure in the Southern Hemisphere from the Fortress, an esports gaming arena in CBD Melbourne.
Located on two floors of Emporium Melbourne shopping mall, the Fortress taps into the global esports industry with its 200 seat retractable gaming stage, a LAN lounge accommodating 160 PCs, console gaming area, private streaming booths for esports influencers, retro arcade machines, and a sports bar with bottomless packages to eliminate distractions for food and beverages.
Gaming stage is designed for amateur and professional tournaments, while the center LED screen is also large enough to broadcast streamed events. LAN lounge is equipped with Alienware gear, and for those who are not that much into electronic sports, there is a selection of board games available. If you don't fancy playing games at all, a medieval themed restaurant provides an exquisite dining experience.
WePlay Esports Arena Kyiv
Location: Kyiv, Ukraine
Area: 1,000 sq. m.
Capacity: 160
WePlay Esports is a Ukrainian media holding company that has been organizing esports events since 2012. They also offer their own tournament platform, brand integrations and media rights distribution during live broadcastings, and now WePlay Esports is a proud owner of a dedicated venue for competitive gaming.
WePlay Esports Arena Kyiv accommodates only 160 people, but don't let its moderate size fool you. It's a perfect place to generate online content: modular, equipped with high-tech, and has just enough space for teams and production crew. WePlay Dragon Temple, a Mortal Kombat 11 tournament, was a key-mark event that helped WePlay Esports to launch their new arena in December 2020. Fourteen international players from different continents came to Kyiv to compete for a prize pool of $60,000. Even though the participants competed on the same stage, the venue was closed to spectators and the tournament was being streamed online. According to Esports Charts, the stream aired for 29 hours and peaked at about 11,000 viewers.
Modular build of the arena allows organizers to rearrange the central stage for 1×1 and 5×5 competitions. It is covered with LED panels supporting events with dynamic visuals. There's a place for players, showcasters, analysts, and for AR characters that can be added to the action with a bit of WePlay Esports magic.
The company is planning to expand its presence globally and has announced that its second dedicated arena is under construction in Los Angeles. The opening date is yet to be unveiled, but managing partners of WePlay Esports have previously mentioned fall 2021 as a target time.
Esports Arena Santa Ana
Location: Santa Ana, CA
Area: 1,394 sq. m.
Capacity: 1,400
The very first dedicated esports gaming arena in the USA is located in an old brick building in Santa Ana, CA. It opened in 2015 and since then has further expanded to a chain of gaming venues across the country, counting 19 locations in total.
Esports Arena Santa Ana has a simple modular build allowing it to host events of a different scale. There's no limit in titles, the arena has everything necessary for live and broadcasted competitions, both professional and amateur. To diversify its revenue streams, Esports Arena generates its own digital content, rents gaming equipment, and offers space for corporate or private events as well.
Esports Stadium Arlington
Location: Arlington, TX
Area: 9,290 sq. m.
Capacity: 2,500
This is the largest dedicated esports venue in North America. What once was the Arlington Convention Center now became a versatile hub for competitive gaming. It occupies almost 10,000 sq m of space and is able to seat 2,500 spectators at the center stage. The project to transform an underused space of the Arlington Convention Center into an esports-specific venue was completed in just 6 months.
The whole venue provides a full ecosystem for competitive and recreational esports activities. The front of the house welcomes everybody with a LAN-center and a small competitive area where local or amateur tournaments take place. This part of the stadium is accessible daily with 42 PCs and the same gaming gear that pro-players use on the central stage for Tier-1 competitions. There is also an arcade area and merchandise store that are available for day-to-day patrons. The array of experiences at the venue aimes to build a strong esports community, and also provides a regular revenue stream, even amidst the pandemic.
The main stage is flexible, with tiled 15 meter high LED display, completely programmable and adaptable according to the nature of an event held at the arena. It can be a 1:1 or 5:5 esports competition, a commercial presentation, a city-wide convention – former ballroom space expands as you need, whereas screen panels provide a high-resolution visual presentation.
The back of the house contains a large support area for teams and production. There's a players lounge for athletes to decompress, an improvised hall of fame in every training room where notable esports teams once got ready for their competitions, a caster room where analysts deliver their play-by-play commentary. Multiple audio rooms, post-production rooms, control rooms allegedly house 4.5 million worth of tech and almost 5 km of cables to deliver the best viewing experience.
Fusion Esports Arena
Location: Philadelphia, PA
Area: 5,574 sq m
Capacity: 3,500
What is seen to be one of the most ambitious projects in esports yet is a very first purpose-built professional esports arena in the world, Fusion Esports Arena. It has been in the works since 2019 and was planned to open in fall 2021, but unfortunately the construction is currently on halt due to the pandemic.
Fusion Esports Arena is designed to become a ground zero for the esports industry in North America and the Western Hemisphere in particular. After Blizzard Arena had been announced to step down as a main stage for the Overwatch League, Philadelphia Fusion, a professional esports team competing in the league, got determined to build Fusion Arena as its own base for Homestands. The venue will encompass the whole range of fan experience, defining a gaming lifestyle brand through distributed merchandise, apparel, and interactive media surface spread across 550 sq m of public entry space.
The estimated cost of the Fusion Arena is $50 million and would also cover premium training amenities, in their quality similar to professional NBA training facilities. The seating bowl would be able to seat 3,500 people on customized chairs with USB ports or in private lounges with individual game stats being delivered to patrons in real time.
Zhongxian Esports Stadium
Location: Chongqing, China
Area: 5,574 sq m
Capacity: 6,096
Zhongxian Esports Stadium was initially intended to become a part of a characteristic, or featured, town, one of the locations that are becoming very popular in China in recent years. Featured towns are usually positioned in rural areas and specialize in a specific industry. A little town right next to Chongqing, Zhongxian, was planned to be transformed into an esports center with a dedicated stadium, an esports academy, and an incubator for gaming-related businesses.
The stadium was completed in 2018 with overall investments of more than $215 million. It launched with a CMEG 2017 finals, a China Mobile Esports Game competition in 5 titles: King of Glory, Battle of Balls, Crossfire: King Shoutout, Freestyle Basketball, and Three Kingdoms Kill. Eight LED screens hovering over the player podium were showcasing the action for a seating bowl for 3,500 people.
The exterior of the building is covered with a transparent LED curtain broadcasting the game to the visitors outside the arena. This way, the total number of spectators at Zhongxian Esports Stadium might reach over 10,000 people.
Unfortunately, the concept of an esports town in Zhongxian has not been realized until this day. The stadium remains open and has already hosted several mobile gaming competitions, but the academy and incubator are yet to be constructed. Some sources indicate an unfortunate choice of location for an esports dedicated town, some speculate that Chongqing is too far from main Chinese gaming hubs – Shanghai, Chengdu, Beijing. These might be valid reasons why Zhongxian Esports Town still lives on as a sole underused stadium.
Hangzhou Esports Town
Location: Hangzhou, China
Area: 17,000 sq m
Capacity: 600 (arena)
While Chongqing is struggling with its esports initiative, Hangzhou managed to open its own esports town in 2018. For now, patrons can only visit a dedicated arena for gaming competitions, but the city plans to expand the number of facilities with time. Hangzhou Esports Town is planned to include a gaming academy, several esports R&D centers, a theme park, and a player hospital.
The city of Hangzhou recently enjoys a huge stream of investments into the industry of competitive gaming, all due to the fact that in 2022 it will host the Asian Games, the very first Asian Games to incorporate competitive gaming into its medal program. Chinese government is determined to construct up to 14 dedicated esports venues across the city, with Hangzhou Esports Town being the first one so far.
Not to confuse with Hangzhou Downtown Esports Venue that has been announced as an official host of Asian Games 2022, the LGD Arena in Hangzhou Esports Town has its own purpose. It will serve as a homebase for LGD Gaming, a professional team playing in Tencent's League of Legends Pro League (LPL). Lianmeng Dianjing LGD Gaming Hangzhou Arena (that's the full name of the venue) can accommodate 600 people in front of its main competition stage, while also offering 21 VIP rooms, player lounges, and an LGD flagship store with team's merchandise available.
Stay updated with SENET
We'll keep you in the loop with everything good going on in the esport world