How to Host an Esports Tournament
TABLE OF CONTENTS
Online tournaments have become a hot commodity during the COVID outbreak, but progressive esports entertainers never put aside an option to engage with their audiences through live events. Be it a month or a year, lockdowns and limitations will eventually come to their end, and organizers must be ready to take their local communities by storm with a fan experience gaming enthusiasts had missed so much.
In the post-pandemic era, live esports tournaments will remain a great way to attract new customers or to spread a word about your arena. Depending on the objective, such an event may come in a variety of shapes or forms, but don't underestimate the value of details even if your gaming competition is supposed to be very small. With a proper approach, a tiny 10 player bracket hosted at your location might be crowned the IEM Katowice of your city or the whole county, if you will. To provide an outline for aspiring TOs that want to bring good old live esports events back, here's our guideline on things to consider when preparing for a local gaming competition.
Is it legal to host a video game tournament?
For an esports tournament to succeed, there should be teams competing for a prize and an audience enjoying the progress of this competition. Organizers must find a suitable venue, provide fast gaming gear, arrange teams into a sequence, and give some cash or memorabilia to fight for. In return, tournaments are expected to make money through entrance tickets and merchandise sales, with additional revenue from food & beverages.
Video game tournaments for money might raise a brow if you're concerned how different they are from gambling. Because esports don't require particular physical skills as traditional sports do, many might consider them as games of luck. In reality, more countries each year start investing into competitive gaming on the highest level, building training facilities for athletes as in any other sport. But until the whole Olympic infrastructure is built and regulated globally, the legality of hosting esports events mostly depends on TO's location. Even across the USA there's no common practice for gaming tournaments. Delaware, Montana, Connecticut, South Carolina, for instance, indeed consider participation in esports tournaments as a gambling activity.
To make sure your event is in compliance with the local rules, please consult your lawyer.
Observe & compare
Studying what others do is a fundamental part of your own hosting experience. On one hand, you get to know the variety of gaming competitions within your area. At the same time, visiting tournaments arranged by other parties gives you opportunities to experience events from the perspective of a participant or an audience member. Take your notes on everything good and bad that is happening during the tournaments, incorporate your observations into your own organization process.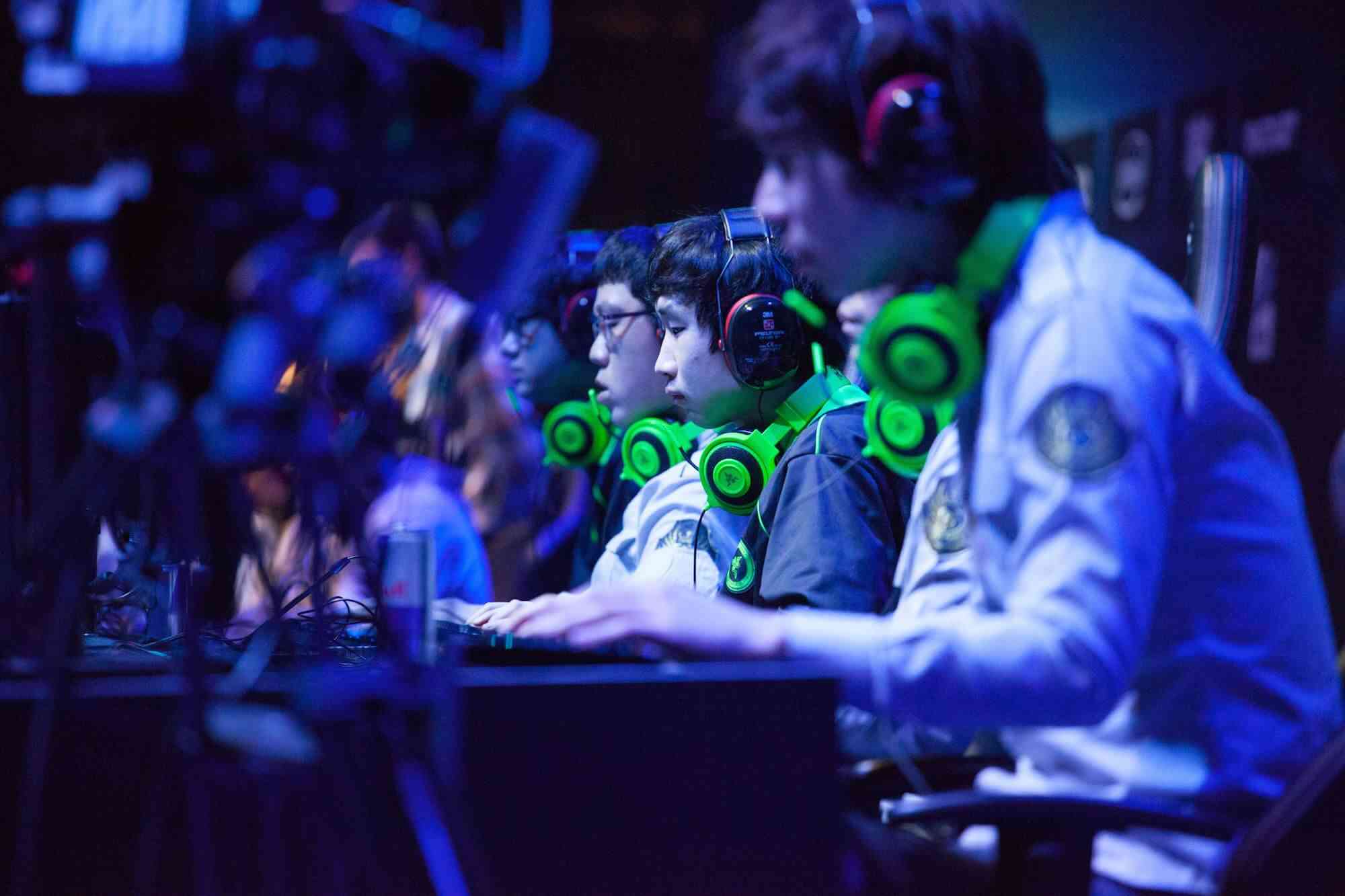 Truth to be told, the most valuable outtake of your scouting would be a list of objectives, or goals, that your rival TOs want to achieve. You would notice that some want to earn an extra buck, that is why they push ticket sales with pretty expensive entrance fees. Some want to raise brand awareness for their LAN-center and arrange a tournament as a totally free experience. Some would launch a charity esports event to connect with the community and strengthen their public relations strategy. Choose an objective that serves YOUR needs, execute it better than the competitors, and voila — you're bound for success!
Choose your game
When it comes to esports tournament games, there are several ways to make a choice. First, you can go after hot trends and pick the most popular title at the moment. In 2020, for example, the biggest games in global esports were League of Legends, Fortnite, and CS:GO. They have a huge following, so the odds are high that your tournament will attract many gamers and spectators, if you chose one of these games.
Second, make an effort and ask your target audience. What if you have a massive Quake community nearby but you try to feed them just another LoL tournament? These Quake enthusiasts could become your loyal customers and ambassadors bringing more people to your venue. Take some time and send around a little questionnaire to determine which game is more popular in your area.
Third, you might as well rely on your own gaming experience. You're a lifelong fan of StarCraft? Choose it over other trending games, because it will be easier for you to supervise the gameplay and resolve disputes during the tournament. Settling on a game that you don't know well can bring a lot of additional work, so make sure you understand the basic rules and strategies of the game you choose.
Design your format
Just like in traditional sports, video game tournaments include group and bracket stages to determine a winner. If you're going big with the event and anticipate a large number of participants, a single or a double elimination bracket will be the fastest and easiest way to find out which contestant is the best. Round robin or swiss seeding could be more time consuming, as they provide an opportunity for every participant to run against every other contestant in the tournament. Let's have a closer look at them to find out more about their distinctive features.
Round robin
All contestants play against each other. They get a different number of points for every win, draw, or loss. A variation of a round robin tournament is a double round robin — where gamers run against each other twice. In the end, whoever gets the most points — wins.
You can see this format at IEM Katowice CS:GO Major Championship and ESL Pro Series.
Try SENET for your gaming center
No-commitment free trial for 7 days. No credit card needed.
Swiss seeding
Round robin might be pretty time consuming when there are too many partakers in the tournament. Imagine having 24 teams that would result in 276 games in a full "all-play-all" scenario — for some organizers such tournaments are just infeasible. Swiss system offers less games with no eliminations while still letting every participant to play in every round.
The tournament starts off with contestants being pitted against each other in a random order. When the round ends and all partakers get points for a win, draw, or loss, they are then paired for the next round according to their performance. With each round contestants run against opponents with a similar running score and are never paired with the same opponent twice.
Dota 2, Overwatch, FIFA, and many other titles use the swiss system during their major competitions.
Single elimination bracket
An esports tournament bracket that is perfectly suitable for a big number of participants competing over a short period of time. Contestants are allocated in pairs, from which winners are moving forward to the next round and losers get cut. To avoid winning by luck, games are usually played in matches "best of 3" (BO3), "best of 5" (BO5), "best of 7" (BO7). However, the same approach might as well be used in round robin and swiss system tournaments, too. It all depends on the nature of the game and time that you have on your hands.
Double elimination bracket
This format creates a great deal of intrigue, as losers of the very first round do not get disqualified but continue competing with each other. This way the bracket is divided into two, and the best of losers faces the best contestant from the bracket of winners at the end. Fun fact, though — for the grand final the initial score of the teams is 1:0 in favor of the representative of the upper bracket.
Set up the venue
Esports tournaments are held in various places: LAN-centers, convention centers, football stadiums, even dedicated esports arenas. When choosing a venue, take people's comfort and safety into consideration. Make sure the location is spacious and doesn't put anybody at risk while being equipped with loads of electronic equipment. To be extra cautious, alert local fire and police departments that you're about to host an event with a crowd. Esports venues don't have standardized guidelines yet, so hosts have to rely on their own judgement furnishing locations according to the size of the audience, necessary hardware, and services provided on site.
Gaming hardware & other equipment
It goes without saying that the video game tournament setup must include enough powerful computers to carry out several hours or days of the competition. Strong CPU in combination with good graphics and plenty of RAM can deliver an immersive experience for gamers, hence the importance of robust PCs.
Look for processors with higher clock speeds — for a fast performance they have priority over the number of cores in a computer. To run games on 4K resolution, make sure you have more than 8GB of video card RAM and at least a 24" monitor with three figure refresh rate. For peripherals, you can't go wrong with a mechanical keyboard, light universal gaming mouse, and a quality foam headset.
Don't forget about gaming chairs, too. Sometimes esports tournaments stretch for hours, and you don't want your players to feel sore after the event. Key features of a suitable chair would be its ergonomics and adjustability, meaning any contestant would be able to regulate their armrests, lumbar support, and neck pillows as they like. Even though most of the world spends days in office chairs, we highly recommend finding some low cost DXRacers or Respawns for the comfort of your participants.
The rest is pretty much optional and depends on additional activities you plan for the tournament. If you plan to have a live audience, they would need big LED screens to watch the matches in real time. Additional computers will be necessary to observe the game and to support the broadcast. You can also install individual webcams for each player, so that the audience could follow their emotions during the gameplay.
Software essentials
Similar to esports tournaments online, live LAN-events also need a bunch of software for a smooth run. To start with, there're programs that help to manage all gaming computers — Senet is a great example of those. Book computers for certain participants, create a virtual map of the venue, check game updates right before the competition — management platforms offer automation of many processes, so that hosts could pay more attention to other aspects of the event.
Other esports tournament software includes bracket generators. Of course, you can draw a table of contestants on a whiteboard by hand, but most LAN-center management programs offer an in-build tournament platform. All you need to do is to choose the type of tournament (knockout, round robin, swiss, etc.), number of participants, their names, and you're good to go. Pretty often such platforms can be integrated into an ecosystem of the title you play, meaning that participants of your tournament can transfer their scores into bigger competitions.
In the world after COVID, hosts of esports competitions might encounter restrictions on the size of a live audience. It's quite possible to guarantee a 2m distance between gaming seats for participants, but not so much for spectators. Streaming might be a great option to solve the problem, and that's just another kind of software a host would need. OBS, or Open Broadcaster Software, is a free tool that is available for everybody who wants to place their video feed online. The thing is, mere recordings of contestants' screens are too bulky to broadcast over the internet — only 3 minutes of gameplay might take up to 600 MB of memory. OBS compresses the image thus optimizing it for stream platforms, like Twitch. Besides, OBS has loads of other useful functions: combine several screens into one picture, add overlays on top of the screen, switch between individual cameras.
During the tournament, people might become a valuable asset. Somebody should be at the entrance registering participants and selling tickets to viewers. Some people must be in charge of locating contestants across the gaming zone, and somebody should follow the gameplay and scores. And don't forget about technical staff that will be crucial in case of blackout, broadband speed loss, or if some visitor spills Coke on the floor. As you can probably tell, it's almost impossible to handle the whole gaming tournament on your own, so here's the list of duties that require dedicated personnel during the event:
Contestants check-in & ticket sales
Seating arrangements for contestants & live audience
Announcements & schedule monitoring
Score, rules & gameplay tracking
Tech faults troubleshooting
Food & beverages/merchandise sales
Streaming & video production
Promote your event
There are two crucial rules for your marketing strategy. One, engage and communicate with potential audience. Don't expect much reaction from one single Facebook announcement about the upcoming tournament. Let them know about your preparations, show behind the scenes, initiate a few polls on what your community expects from the event. This way you get closer to meeting expectations of potential visitors, while also creating an engaging experience before the tournament even started.
Second rule, plan the event first — advertise later. It is disappointing when a host can't keep their promises, especially when they require payment in advance. Advertising a tournament for all ages and skill levels while not being able to secure a big enough venue to accommodate everybody is a huge no-no. Assuring the audience that a popular Twitch streamer will attend the party with no prior negotiations is risky. Confirm every detail before you announce it to build a reputation of a reliable host.
Overall, esports event promotion strategy utilizes every option available: from online endorsements to word of mouth — do not hesitate to use them all.
Establish social media presence. Create accounts on most-used social platforms and boost announcement posts to your target audience. This'll help drawing more players and spectators to your local event.
Tag popular gamers and esports locations in your area. Another trick to get the attention of your local community and not enthusiasts from other countries.
Join gaming groups and channels. Ask if you can advertise your event on their platform, it's especially useful for hosts who haven't got much following yet.
Visit other events where your target audience might be. Bring a few flyers or a QR code telling more about your upcoming tournament.
How much does it cost to host an esports event?
Given you host a tournament at your own premises, its budget will mostly depend on its scale. Unlike events online, get ready for a long list of expenses. The cost of hosting a local tournament might include:
Staff wages
Paychecks for invited guests/popular streamers or showcasters
Marketing budget
Game accounts
Software fees
Prizes
Food & beverages
Cleaning services
Utilities bill
Miscellaneous
Sponsorship opportunities
Major esports tournaments are funded through a variety of funnels: support from game publishers, media rights acquisition from broadcasting channels, sponsors, advertisement, tickets & merch purchases — and even more. For a host of a local event, fund streams are not as diverse, so finding a partner or a sponsor is a common practice.
Collaborate with a fellow internet club owner or with an electronics store nearby to gather more resources. There might be schools or universities with a strong gaming community that might be interested in organizing esports events for the youth. Supermarkets and restaurants in the area could offer discounts on food for participants. Even local government might consider gaming tournaments as a way to entertain the general public. Esports are gaining momentum these days, for sure you will find like-minded partners to collaborate and host a great event.
Stay updated with SENET
We'll keep you in the loop with everything good going on in the esport world