Starting a Cyber Cafe Business – 5 Important Tips
TABLE OF CONTENTS
What is a cyber cafe?
It would be safe to say that cyber cafes mean different things in different regions. In Africa, cyber and internet cafes provide access to government services, in Turkey cyber cafes mostly rent out PlayStations and Xbox for gaming, and in the US cybercafes are your regular LAN centers opened for all kinds of video gaming activities.
Reasons behind cyber café popularity in 2022 are in the lack of access to the Internet in various regions, slow household Internet connection, or expensive PC hardware.
Another explanation for cyber cafes to exist is in a newfound sense of community in modern gaming. Seriously, there must be a great motivation for people to use public places to play games that are available on their personal computers at home. And modern cyber cafes provide just that – getting together under one roof to share common interest and excitement of competitions.
Small, big, serving food, broadcasting esports majors, renting out streaming booths, and having tournaments of their own – gaming venues are ready to cater to the likes of the pickiest audience. Luckily, it seems like everybody's playing games: kids, adults, and even seniors. So don't worry about the payment capacity of gamers – they're more than able to spend money.
So it seems that cyber café business is a pretty popular venture with a great deal of demand. But let's dig a bit deeper into the topic.
Is cyber cafe still a good business?
By good we mean economically viable. In a nutshell – yes, it is. In fact, besides of being profitable, cyber cafes have a short payback period. Depending on location and other factors, a gaming venue can pay off in 9 to 14 months.
Once the idea of starting a cyber cafe hits your mind, the first question that follows is "How much does it cost to open one?" A cyber cafe setup can vary from 10K to over 100K, depending on many factors, starting from its size and hardware specs to the business model that you choose for it (e.g., running your own business concept or buying a franchise). For an internet cafe with a layout of 20 seats, you should plan approximately 50k US dollars.
5 tips to keep in mind starting a cyber café
So, there is a multitude of aspects affecting the success of a cyber cafe. To give you an idea, think of the following considerations:
Is it going to be a small cyber cafe or a huge lounge hosting 100 – 200 computers?
Are there going to be gaming consoles or not?dt
Will it offer extra gaming devices and/or chairs?
What other services and products will it offer?
This list can go on further, impacting directly your cyber cafe business plan. However, we have gathered 5 most essential factors that you must give a thought when elaborating a cyber cafe plan.
Find a good location
No surprise that location is the first and the most important thing you must consider before planning an on-site business. Location can either facilitate the success of your cyber cafe or bring its business concept to an end. When choosing between multiple geo-positions in town look at the following factors:
In which district of the city is it situated? Is it safe there (especially, if you plan to work night shifts as well)?
Is it considered to be a popular area for your target audience (e.g. student campus, gathering spot for hipsters, etc.)?
What are the nearest (non-)commercial objects that are directly/indirectly related to your business (e.g, copy centers, cafes, stores, universities, schools, etc.)? That said, consider both advantages and disadvantages that these institutions can have for your business.
Are there any competitors nearby? How far is the nearest competitor? What are their strong and weak points? What can you do differently?
Following the logic of the above-mentioned points, your location must be safe, ideally situated in the city center, with convenient commute options. The surrounding area should look pleasant and be often visited by people, namely your target audience.
It will be advantageous to have schools and other educational institutions, entertainment centers, or youth gathering places near your cyber cafe. Better – no or very few competitive businesses, such as other internet cafes, copy shops, or gaming centers. It is also worth mentioning here the premises of your cyber cafe. The building should be seen in the open, memorable, and well-accessible.
Write a simple business plan
The better you prepare, the more chances you have to achieve your goal. Having at least some business plan improves your results by 30-50%. If you have experience with elaborating business plans, then you need no further explanations here. However, if not, then it's time to roll up your sleeves and get down to work.
In case you are going to apply for a loan or receive any funds from an institution or an investor, a business plan is a must. Besides, it works good as a benchmark helping to research the market, take into account complex issues, understand the competitive landscape, identify influential factors, estimate the costs and outcomes. As a rule, your business plan will cover legal, organizational, financial, and marketing aspects.
We suggest you take a look at our blog post Internet Cafe Business Plan where we discuss the key aspects of this issue.
Try SENET for your gaming center
No-commitment free trial for 7 days. No credit card needed.
Get the required licenses and permits
For a business to exist and function properly, it is necessary to take care of all the legal documents and permissions. Start with checking juridical requirements for cyber cafe setup and find out about procedures of cyber cafe registration.
Business license
At the very first stage of establishing your business you will need to get a business permit (here, a cyber cafe license) from a state, that will allow you to legally operate on the market, employ staff, deal with partners and clients, make payments, get revenue and pay taxes.
State permits
As you will deal with a multitude of hardware, devices, and wires, it is mandatory to plan the premises accordingly to safety norms and obtain permission from the fire service. In this context, it is also recommended to get a business and or company's property insurance.
In case a cyber cafe plans to serve food or provide snacks, it must comply with the sanitary and hygiene regulations and submit to inspections.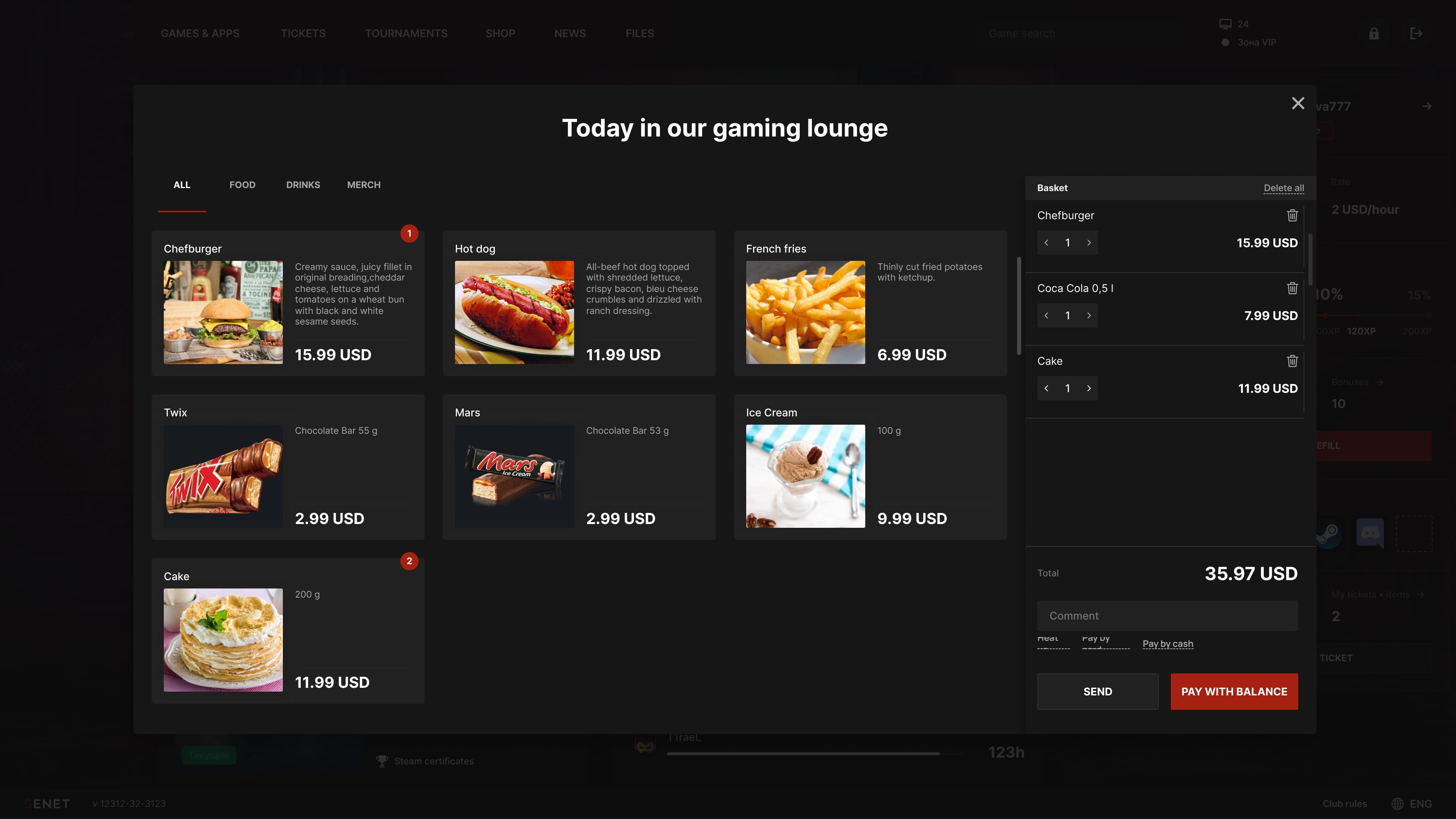 Those venues that aim to sell alcohol or cigarettes will have to obtain additional licenses and permits as well as may restrict entrance to visitors below the legal drinking or smoking age.
Gaming licenses
Most modern cyber cafes are meant for gaming. Thus, besides playing games, cyber cafes often offer their customers the opportunity to place bets on esports or online gambling. In case of the latter one, cyber cafe might be obliged to obtain a gaming license, as well as display information on gambling addictions within the venue.
Choose the right equipment for your cyber cafe
Having all the legal questions covered, time to clarify the equipment issues. Is it obligatory to set up your venue with state-of-the-art devices? No. Unless, establishing an innovative cyber cafe is envisaged by your business plan.
In a nutshell, not all cyber cafes should have the most powerful and advanced computers of the latest model. First, they are expensive, and second, they wear out quickly. As a result, you'll have to change hardware every 1-2 years, postponing the pay off.
A better way is to choose something in the middle – good reliable appliances at a reasonable price. As an option, you can hire a specialist who will find used machines of a good quality and will upgrade them according to your needs. You can also track your hardware through the software, like SENET Health Checker.
Keep in mind that the equipment in a cyber cafe should be updated every 2-3 years, while the peripherals (e.g., headphones, mice, pads, etc.) break every month.
Start a promotion
Before your cyber cafe opening, devise a plan of a basic promotion: giving out flyers, placing posters at the gathering spots of your target audience etc. Consider word-of-mouth as a method for boosting awareness about your venue. Enforce it with relevant special offers, such as "Bring a friend and get a bonus". Introduce a system of incentives, small discounts on purchases of bulk time, for example 3 hours in bulk would cost cheaper than 1 hours purchased three times separately.
Marketing is a combination of economics and psychology, thus, whenever making up an offer, check its economic viability. Here are some tricks that might be of use:
Bundling
Remember the effects of price bundling on consumer evaluations of offerings. Generally, it is way easier to sell complementary services together with the main purchase, as customers are less negatively affected when prices are bundled together and they only have to pay once. For example, offer them to purchase X hours of gaming time and a snack for free.
Unbundling
When it comes to gains, use the approach of unbundling. Numerous studies show that clients perceive two smaller wins as being greater than one big win. Thus, instead of offering a single 25% discount for a day pass and a premium seat (40€ -> 30€) break it in two 25% reductions: one for the daily pass (30€ -> 22,5€) and one for the premium seat (10€ -> 7,5€).
In fact, marketing and pricing technologies can enormously help you to increase your average check and ultimately raise your cyber cafe earnings. Be inventive, experiment, and try different offers. Only this way you can get to know your customers better and find out what works for them and you as a business owner.
Summary
As you could see, cyber cafe like any other kind of business has its peculiarities and requirements. For you as a business owner it is necessary to have a big picture and look at all aspects of your business in general. Pay attention to crucial and strategic issues, especially those that require considerable investments and are not easily changed, like location and expensive equipment. On the other hand, be more creative and flexible when it comes to marketing and pricing.
Your responsibility as a manager is to ensure a smooth and continuous operation of your business unit. Another task of yours is to work constantly on optimization of business processes. In this regard, make use of cyber cafe management software. This will help you to improve workflow, as well as keep track of all the operations and business development.
Stay updated with SENET
We'll keep you in the loop with everything good going on in the esport world