Top 17 e-Sports Arenas and Venues in the World
How to turn video games from entertainment into the pot of gold? While many of us still take the digital world as something unreal, others have already derived quite substantial profits from the eSports rage. Or do you belong to retrogrades who believe that playing video games is a wing-ding for geeks? Come on, Statista says that the eSports audience expanded from 193 million in 2019 to 223 million in 2020 and is expected to get another 70 million by 2023. And this covers only electronic sports enthusiasts while occasional viewers add several hundred million people to the figures. What a market!
It is true that the International Olympic Committee is still debating whether to include eSport contests in its list of disciplines, but it is also the fact that China, South Korea, Italy, Russia, Finland and several other countries have officially recognized it.
However, the most popular tournaments don't really need this recognition to gather huge audiences and awe their fans with multi-million prize pools. Specifically, The International 2019 stole the spotlight with $34,000,000 awarded to gamers. And for your reference, the largest eSports crowd was collected a long while ago — 120,000 fans arrived at Gwangalli Beach in Busan to watch the StarCraft finals in 2005.
Nowadays, beaches are no longer the choice when it comes to arranging video game competitions. They are held either fully online or over local area networks (LANs) with players gathered on specifically equipped sites. As for now, there are not so many dedicated venues constructed for this purpose across the globe, so organizers use all sorts of stadiums and convention centers that can be modified accordingly.
Sure, existing facilities should be retrofitted wisely to fit the specifics of eSports competitions, but we have plenty of shining examples of how it can be done in the real world. And here is our top list of arenas, ranged by their capacity, to inspire future hosts and organizers.
Esports Stadium | Arlington (2 500 seats)
This venue cannot surprise you with its huge capacity either, but it really stands out from the crowd as the only facility designed specifically for eSports on this list. It opened its doors in 2018 and welcomed its first international-level competition right off the bat. It was the final stage of the Esports Championship Series by FACEIT for CS:GO, where Astralis grabbed the biggest part of a $750K prize pool. The following year, Astralis returned to the spot to win again in the $500K worth contest. Along with premier competitions, the venue serves smaller events, including Madden NFL, Fortnite, Valorant, and some other tournaments.
Convention Center | Anaheim (7 500 seats)
Given the tiny size of this spot in comparison with other locations, you might underestimate its true value. But over 40,000 people cannot be wrong — and this is exactly the number of fans who visited legendary BlizzCon in 2018. Yes, Anaheim has been hosting the event from its very first days in 2005, and, from time to time, it turns into a battleground for Blizzard-powered competitions. Thus, in 2019, it held the first Hearthstone Grandmasters, all three stages of the Overwatch World Cup, global finals of the StarCraft II World Championship, and the World of Warcraft Arena World Championship. Not bad for such a peanut, eh?
Moreover, the center managed to cater to the 2020 DreamHack Open just in time before the pandemic broke out, so visitors could enjoy captivating contests in Fortnite, Counter-Strike, Halo: Reach, and other games.
Copper Box Arena | London (7 500 seats)
Constructed for the 2012 Summer Olympics, this spot didn't wait long to switch to video game competitions. In 2014, they partnered with Gfinity to collect a thrilling G3 hotchpotch of titles, including FIFA 14, StarCraft II, CS:GO, and Call of Duty: Ghosts. Although the biggest prize was unpretentious $30,000, the event captured quite a bunch of people with weighty YouTube personalities like Ali-A or KSI and various side activities.
So, the arena kept moving in the digital direction and provided its space for CS:GO and Super Smash Bros. Melee tournaments produced by DreamHack the next year. They were followed by Season 5 finals within the 2018 Rocket League Championship and multiple Call of Duty battles (the latter resulted from the fact that the venue became home to the London Royal Ravens).
Spodek Arena | Katowice (11 500 seats)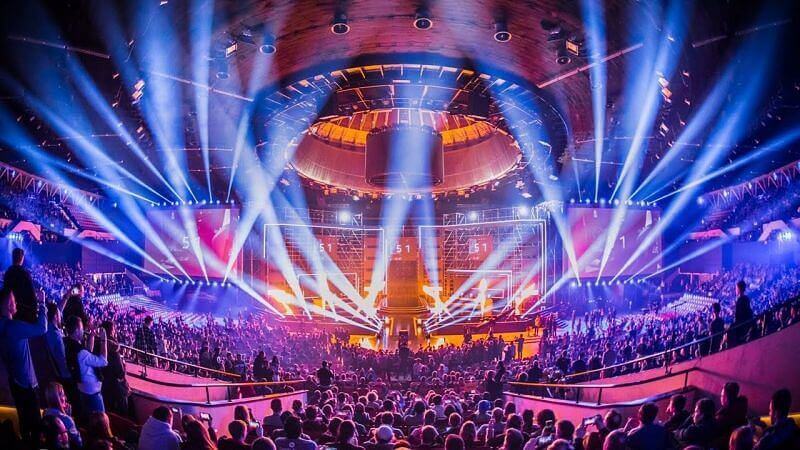 Despite its seemingly humble size, this place in Poland is truly iconic for each CS:GO or LoL fan across entire Eastern Europe — you can take it to the bank. All thanks to ESL and Intel Extreme Masters rooted there in 2013. Back then, Katowice catered to StarCraft II and League of Legends, but later, it added CS:GO to the table of posted eSports games.
IEM Katowice 2019 brought ESL and Valve together to produce a legendary event featuring tournaments for CS:GO, Dota 2, StarCraft II, and Fortnite. The total prize pool amounted to $2.5 million, eventually shared by Team Secret, Astralis, and other prominent gamers. Over 174,000 fans enjoyed multiple attractions since Spodek successfully accommodated both championship and IEM Expo.
The SSE Arena, Wembley | London (12 500 seats)
Called The SSE Arena nowadays, this facility saw plenty of high-profile names and events, from two Olympics to Madonna's shows. However, it had kept aloof from gaming until 2014, when LoL brought some digital spirit into its quite traditional atmosphere. Riot Games picked the venue for its Week 5 matches within the League Championship Series, which involved top professional teams like Alliance and Fnatic.
The following year, Wembley was elevated to the quarterfinals of the LoL World Championship, where the best teams struggle for more than $2 000 000. Three years later, it suddenly jumped to CS:GO — Valve and FACEIT arranged the Major Championship playoffs within its walls.
Malmö Arena | Malmö (15 500 seats)
Even a newbie to the gaming universe knows cool (both literally and figuratively) Swedish guys from Ninjas in Pyjamas and Fnatic. With so much devotion to electronic sports, this country just couldn't do without its own gaming Mecca. And they have one sitting in Malmö, where DreamHack Masters started its way in 2016. The tournament engaged 16 top-tier CS:GO teams vying for $250,000, and Ninjas in Pyjamas triumphed, of course. Malmö Arena was chosen to be the venue for the contest in 2017 and 2019, bringing wins to G2 Esports and Fnatic, respectively.
Try SENET for your gaming center
No-commitment free trial for 7 days. No credit card needed.
Royal Arena | Copenhagen (17 000 seats)
Opened just in 2017, it's one of the freshest venues to adopt various events, including the most technology-packed ones. So, it took only a year for organizers of the LoL European Championship to understand the potential they can avail of. They got to work without delays and arranged the Spring Split Finals in Denmark, giving Fnatic a chance to defeat G2 Esports and earn €80,000 coupled with a ticket to the Mid-Season Invitational.
Frankly speaking, Riot Games simply parroted RFRSH Entertainment, which had discovered Royal Arena immediately after its opening. They made their first appearance with the BLAST Pro Series exactly on this site and then continued the tradition until the tournament was terminated in 2020.
Climate Pledge Arena (KeyArena) | Seattle (18 000 seats)
Now styled as Climate Pledge Arena, this venue will be long remembered as KeyArena among Dota 2 fans since it served as the core scene for The International. The story started in 2014 when the famous developer chose KeyArena for its $11 million-worth tournament. The craze was so tough that all the tickets were snapped up within an hour while the number of viewers reached 20 million.
Valve kept developing its creation while the going was good, and the venue in Seattle became kind of home eSports gaming arena for Dota 2. It hosted The International four years in a row until 2017 when Valve put a record-breaking 24.7 million at stake. Unfortunately, the arena was closed for reconstruction in 2018 and is expected to open only in summer 2021.
Mercedes-Benz Arena | Shanghai (18 000 seats)
Well, AEG, which operates this popular spot, acts under the principle "their loss is our gain". Once KeyArena came to be unavailable for Valve's major event, the facility in Shanghai took up the slack. Honestly speaking, their cooperation started a bit earlier, in 2016. That year, the venue hosted the Shanghai Major, where 16 professional Dota 2 teams competed for no less than $3,000,000.
Yet, this was just the beginning since, despite many issues that accompanied the 2016 tournament, the stadium was selected to welcome The International 2019. With $34 mln up for grabs, which is a current record for eSport events, the competition was doomed to success even without an all-star game, pros vs. OpenAI bots match, cosplay contest, and other shows. Moreover, the venue somehow ended up hosting the LoL Pro League Regional Finals just a few weeks later.
Barclays Center | New York (19 000 seats)
While serving as a training ground for local NBA teams, the venue justifies its multi-purposeless to the fullest by hosting many other sporting and cultural events, ranging from MTV Awards to gymnastics champions. In 2016, it also debuted as a popular eSports destination, entertaining visitors of the ESL One CS:GO competition with all kinds of associated activities. The first experience proved to be successful enough for the venue to become home for annual LAN tournaments held until now. The event lasts two days, with eight teams competing for a $200-250K prize pool and guests enjoying pro player autograph sessions, VR experiences, and other exciting stuff.
In 2018, Barclays Center took it a step further and hosted the inaugural Grand Finals for Overwatch produced by Blizzard. Nearly 11 000 000 people watched the London Spitfire winning a million-worth reward.
SAP Center | San Jose (19 000 seats)
This place is known to every fan of the Intel Extreme Masters series in US. The venue held LoL and StarCraft II matches with a total prize pot of $545K until the final event in Katowice. Over 12 thousand visitors could enjoy Cloud9 struggling against Unicorns of Love and herO wrestling Rain down. The next season worth $175,000 thrilled LoL and CS:GO fans with the victories of Origen and Natus Vincere, respectively, while adding even more fun through a charity celeb match and cutting-edge VR experiences.
Staples Centre | Los Angeles (20 000 seats)
Yet another site from the City of Angels has made it into electronic sports history in addition to the worship gained as the place where the glorious LA Lakers train. The arena accommodated the finals of the 2013 LoL World Championship, where SK Telecom T1 beat Royal Club and took one million dollars out of a $2M prize.
The next Worlds iteration on the Staples Centre ground happened in 2016. The victory of SK Telecom T1 felt like déjà vu, but their winnings increased more than twice since the tournament purse reached $5 million. With 43 million online viewers, Season 2016 entered the league of the biggest eSports events ever.
Lanxess Arena | Cologne (20 000 seats)
Despite the fact that Lanxes Arena is not one of the biggest stadiums in the world, it is undoubtedly the main destination for CS:GO fans. One of the most prestigious video game events in the world, ESL One Cologne, is held here. The arena lent its facilities to the tournament for the first time in 2015 and has hosted it ever since, with the only interruption in 2020 when the tournament went online due to a pandemic. The prize pool is $250-300K, but it rose to an exciting $1,000,000 in 2016. The contest regularly draws all-star players such as Fnatic, Virtus.pro, SK Gaming, Natus Vincere and Team Liquid.
Qudos Bank Arena | Sydney (21 000 seats)
This Olympics-scale venue just couldn't be missed out by flagship organizers looking for roomy eSports stadiums to encompass the growing gaming audience. One can only wonder why they stumbled across the Qudos Bank Arena as late as in 2017. That year was a turning point for both the venue and ESL, which included the former Sydney Super Dome into its IEM schedule. Since then, the spot hosted Global Offensive matches annually until 2020 and progressed from a $200,000 prize for eight teams to $250,000 for 16 participants starting from 2018. Unfortunately, ESL decided to move the event to Melbourne due to inconveniences with transportation and accommodation visitors suffered from in Sydney.
Banc of California | Los Angeles (22 000 seats)
Definitely, it's not the most famous among eSports arenas, yet the stadium resounded throughout the eGaming world in 2018. The debut was dedicated to the release of Fortnite on Nintendo Switch. Epic Games, thought it would be a good idea to celebrate the event with a charity event between teams made up of both professional gamers and celebrity amateurs. Keeping in mind the prize of $3 000 000 and a hundred stars invited, the event just couldn't fail to engage thousands of visitors, not to mention millions of online viewers. And the spick-and-span new stadium (built in 2018) located a stone's throw away from the E3 site, was obviously the right choice.
Commerzbank Arena | Frankfurt (50 000 seats)
Renamed into the Deutsche Bank Park in 2020. Six years earlier, this arena broke into the eSports world as the host of ESL's first-ever Dota 2 tournament. The venue accommodated a 12-thousand eSports crowd striving to witness exciting real-time battles between top-flight teams from Europe, Asia, and the USA. A $150,000 reward attracted such big guns as Fnatic, Vici Gaming, Alliance, and Invictus Gaming, with the latter taking most of it.
Further, Commerzbank Arena continued to host ESL One competitions up to 2020, when the prize pool for Dota 2 teams reached $400,000. However, the venue didn't stop there in developing its digital destination. While it remains the home stadium for the Eintracht football club, the establishment has also launched its own eSports training center, focusing on FIFA soccer simulation and world-renowned LoL.
Sangam Stadium | Seoul (66 700 seats)
As the name suggests, the venue was purposefully erected to accommodate 2002 World Cup visitors, and it did the job perfectly. From that time on, it hosted multiple football tournaments, including a couple of major ones, along with all kinds of concerts. However, it joined the list of top eSports venues in 2014, when leading LoL pro teams parachuted there to clash for a $2 million reward offered by Riot Games. Considering that LoL was the most-watched game even at that time, you won't be surprised to learn about 45,000 tickets sold right away and a 27-million audience watching The 2014 World Championship finals online. By the way, one million dollars went to a Korean team, Samsung Galaxy White.
According to experts who commented to Forbes, the eSports venues market is going to grow over the following years, with many existing spots getting redone and eSports bars popping up at every bend. Even colleges have started to develop their in-home gaming facilities, with some of them going as far as offering degrees in electronic sports. It seems this is quite the time to embrace the opportunity and get your business headed in the right direction.
Stay updated with SENET
We'll keep you in the loop with everything good going on in the esport world